After finishing the regular stage in June, the "Prince Takamado Trophy 2019 Hockey Japan League" is finally coming to the final stage this month! 
The final stage will take place for two weeks. In order to win the league, the team needs to win all the three games. 
The Coca-Cola Red Sparks, who finished 2nd in their regular stage (adult league), will play against Ritsumeikan Hollys in the quarterfinals on November 10th (Sun).  
Your support will empower each and every one of us!! 
All players and staff members will make the utmost efforts toward the game to win the triple crown. Please come to the stadium and give us your enthusiastic support!!
【Schedule】
Please check the team website Schedule and Result.
○Yamanashi Gakuin Hockey Stadium 
Approx. 5-minute walk from Sakaori Station on the JR Chuo Line 
Approx. 15-minute walk from Zenkoji Station on the JR Minobu Line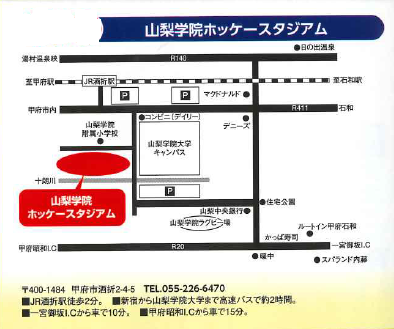 Approx. 5-minute walk from Ibaraki Station on the JR Tokaido Main Line 
Approx. 7-minute walk from Unobe Station on the Osaka Monorail 
Approx. 10-minute walk from Minami-Ibaraki Station on the Hankyu Kyoto Line